Austin Long-Term Disability Lawyer for LTD Appeals
Appealing for benefits is best done under the guidance of an experienced disability lawyer.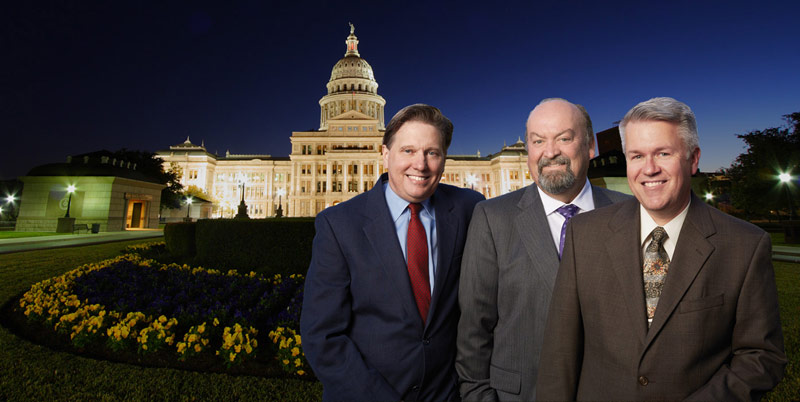 Austin Long Term Disability Lawyers dedicated to helping you obtain Long-Term Disability.
Over 80 years combined experience helping the disabled
We have the knowledge and proven track record to help you win your LTD claim.
FREE Long Term Disability Consultation
Author: Attorney Lonnie Roach
---
What if my LTD claim has been denied?
Have you carried long-term disability insurance for years, yet when you suddenly became disabled and filed a claim, your insurance carrier denied coverage?
You are not alone. Unfortunately, insurance carriers commonly deny valid disability benefits either when claims are initially filed or after one or two years, maintaining that the insured's condition has improved or they no longer qualify under the company's definition of disability. If your long-term disability claim has been denied, it's important not to give up – you may still qualify for benefits.
---
Bemis, Roach & Reed is THE Disability Law Firm of Texas
---
Bemis, Roach and Reed is an experienced long-term disability law firm that can help you obtain the benefits you deserve and have paid for.
With over 80 years combined experience, the attorneys at Bemis, Roach & Reed have been serving clients since 1993. We are located in Austin but serve those with disabilities throughout Texas. Our large staff is trained exclusively in disability law, making our firm uniquely qualified to handle your claim.
---
We have
successfully handled cases against almost all major insurance carriers

including Aetna, Cigna, Unum, Hartford, MetLife, Prudential, Standard, Connecticut General Life, Life Insurance Co. of N.A., Lincoln Financial, Northwestern Mutual, Reliance, Assurant, CNA, Fortis, Liberty Mutual, Paul Revere and many others.
---
Partner, Lonnie Roach. His extensive knowledge of law, including complex ERISA law, allows him to choose the absolute best possible path for LTD claims. Long-Term Disability is the primary focus of his practice.
Partner Greg Reed. Winning litigator helps clients with Social Security Disability law, long term disability denials and appeals. The hero in many stories. Disability is the primary focus of his practice.
---
What is Long-term disability?
Long-term disability claims are different from Social Security Disability Income (SSDI) claims. SSDI is a federal program that provides financial assistance to people with disabilities. This is a program you have already paid into as long as you have been working and paying Social Security taxes. On the other hand, long-term disability insurance (LTD) is coverage provided through an employer or purchased separately by an individual. Approximately 35% of employers provide long-term disability insurance to their employees. Long-term disability insurance will help replace part of your income if you become disabled and are unable to work.
---
SSDI and long-term disability insurance differ in.
How each defines "disability."

Eligibility requirements.

Plan options – you cannot customize SSDI, but you can choose levels of support in LTD plans. For example, some plans provide 60%, 70% or more of an individual's pre-disability wages.
How denials and appeals are handled.
---
Why are LTD claims so difficult?
Unfortunately, filing an LTD claim can be a difficult process. If an LTD plan is provided by an employer or purchased through an employer-sponsored group plan, it is governed by ERISA (The Employee Retirement Income Security Act), a federal law that sets minimum standards for privately-established retirement and health plans. Even though ERISA was enacted to protect employees, ERISA's complex rules and regulations often protect insurance providers more than the insured. As a result, many law firms will not accept ERISA cases, and a claimant without experienced legal representation who is forced to go it alone against the resources of a large insurance company will likely lose their case. For more information regarding ERISA, please click on our ERISA page or our page on ERISA Frequently Asked Questions.
---
Don't give up, believe in your claim.
Call 512-454-4000 and get help today.
Don't delay your FREE consultation, there may be crucial deadlines expiring.
---
If you have been denied long term disability benefits, Bemis, Roach & Reed offers a free absolutely no obligation consultation to determine if we can assist you in obtaining or reinstating those benefits.
Please feel free to call with any questions, our staff love to help people and truly understand how difficult being disabled can be. If we cannot help you, we will try to find the best solution for your particular situation.
---
Being disabled can place you and your family in financial jeopardy.
Typically, there is a 180-day period during which an appeal may be filed with the insurance company. Contact an experienced disability attorney right away – the success rate of claims is much higher for those claimants with qualified legal representation. Do not wait as it may be impossible to challenge the decision in court later.
---
We will be there for you
If you hire Bemis, Roach & Reed will review your case carefully and determine the best way to proceed. Our attorneys and staff will help you gather all necessary medical records and documentation to prove your case and make sure all deadlines are met. We will communicate with you each step along the way, from initial filing of your claim through the entire appeal process. We work diligently for our clients so they get the maximum possible benefit and will take your claim all the way to the United States Circuit Court if necessary. If you or someone you know is in need of insurance attorneys who specialize in Social Security disability and long-term disability, call us today at (512) 454-4000 or toll free at (866) 433-4979.
---
"After working the same job for 28 years and always carrying LTD insurance. I became unable to work. Tried to deal with the insurance company on my own, but got absolutely nowhere. Found Mr Roach on the internet and after consulting him, I hired him. Not only is he and his wonderful staff completely professional. They also go the extra mile with compassion and truly caring about their clients. I highly recommend Mr Roach."
– Chriss
Long-Term Disability FAQS
What is long-term disability insurance?
How do you get LTD Insurance?
Long-term disability insurance is most often provided in a group plan by an employer or purchased by an employee through an employer. An LTD policy can also be purchased from an insurance carrier by an individual. LTD insurance does not cover work-related illnesses or injuries; those injuries and illnesses are covered by workers compensation insurance. The following are some of the most popular and best-known insurance companies that provide long-term disability insurance:
Mutual of Omaha
Liberty Mutual
Guardian Life
Principal Financial Group
Some common medical conditions that qualify as total disabilities include:
What is short-term disability and how does it differ from long-term disability insurance?
There are two types of disability insurance available to employees: short-term disability insurance and long-term disability insurance. Short-term disability insurance is insurance that will pay a percentage of an employee's salary if they are temporarily unable to work due to illness or injury. When short-term disability coverage ends – usually after six months – if an employee is still disabled and cannot return to work, long-term disability insurance will take over, paying 50-60% of an employee's salary. Long-term disability policies are measured in years as opposed to months. Benefits last until the individual can return to work or for the number of years stated in the insurance policy. The benefit period can last 2 years, 5 years, 20 years, or until retirement age. The shorter the benefit period, the cheaper the policy. While the wait period for short-term disability insurance to begin paying benefits is often less than 14 days, the elimination period for long-term disability insurance ranges from 30 days to two years, with the average period being 90 – 180 days. The longer the elimination period (the longer you can go without accessing policy benefits) the cheaper the policy. Disability insurance typically costs 1-3% of an individual's salary. If purchased with pre-tax dollars (as through an employer), benefits are taxable, but if purchased with after tax dollars, as most private insurance policies, benefits are not taxed.
What is ERISA and why is it important?
The Employment Retirement Income Security act of 1974, or ERISA, is a federal law that sets minimum standards for most private industry retirement and health plans to provide protection for individuals covered under such plans. ERISA protects employees covered under employee benefit plans and ensures employees receive the benefits promised under those plans.
Most group LTD policies are covered by ERISA. As such, ERISA regulates how disability claims are processed, timelines for processing a claim, and an individual's rights if a claim is denied. When an injured worker files a claim, their employer or the insurance company may try to deny the claim by saying the employee is not disabled, not covered by the policy or some other reason. Long-term disability policies governed by ERISA provide the right to appeal a denial or file a lawsuit. ERISA's role is to protect employees of private plans; public employee plans may have protections in place.
ERISA provides specific procedures to follow when filing claims and appealing decisions under a group long-term disability policy. Long-term disability policies purchased privately are contracts between an insurance company and the policy holder and governed by state insurance law. Under ERISA, a claimant has the right to appeal any "adverse benefit determination" which includes any denial, reduction in benefits, or failure to provide or make payment in whole or in part of a benefit.
What practices do LTD insurance companies employ to deny claims?
Most long-term insurance policies are purchased through an employer which means the insurance plans are subject to the rules and regulations of The Employee Retirement Income Security Act of 1974 or ERISA. While ERISA requires claimants and respondents to meet specific deadlines for filing claims and appeals, the law allows an insurance company or a plan administrator to have the final say as to whether a claim should be denied or approved. An insurance company will rely on the law to its best advantage. A denial can only be reversed if the claimant can prove that the insurance company's decision was arbitrary and capricious.
Long-term disability insurance companies will use many strategies to deny your claim. They may refuse to give a claimant a copy of its insurance policy, insisting that the policy can only be obtained from their employer. An insurance company may not disclose whether the medical experts they hire to review cases are employees, independent contractors, or paid reviewers and may refuse to turn over the invoices for services these medical providers perform. These documents are all part of the "administrative record." The law requires an insurance company to supply a copy of any document the insurance company has considered in denying a disability claim. The administrative record is important because, if a case proceeds to court, it will likely be the only thing a judge will look at in deciding the case. A claimant will not be allowed to call witnesses to testify or introduce exhibits in court that were not submitted to the insurer during the administrative appeal process.
Other tactics an LTD insurance company may employ:
• An insurance company will hire medical providers who are biased to review claims without examining or speaking to a claimant.
• An insurance company will review social media to find anything they can use to prove the claimant is not disabled.
• An insurance company will hire private investigators to follow a claimant and take videos to prove the claimant is capable of working.
• When a policy converts from "own occupation" to "any occupation" (usually after two years) an insurance company will hire a vocational consultant to analyze a claimant's training, education and work experience. Most of these consultants are employed by the insurance company itself and usually find the claimant is capable of performing some type of work.
The 7 most common reasons Long Term Disability claims are denied. ->
How can I avoid a denial of my claim?
There are a number of things you can do to increase your chances of success when submitting a long-term disability claim.
• Do not quit your job; if you quit your employment, your long-term disability coverage may terminate. Instead, as soon as you become disabled inform your employer and insurance provider that you intend to file a claim.
• Read your policy and make sure you understand its definition of "disabled" and its terms and limitations.
• Make sure your doctor provides a supporting opinion that details your limitations. (If your doctor will not provide a statement, find another doctor).
• Provide complete medical records, including results of all tests and procedures.
• Continue prescribed treatments and keep accurate records. All contact with your insurance company and medical providers should be documented in writing.
• Pay attention to all deadlines stated in the denial notice and submit all medical records and documentation as soon as possible.
• Hire a qualified disability attorney to assist you.
What if my claim is Denied?
If your claim is denied, however, then you need to speak with an attorney before you take any additional actions. You will have an opportunity to appeal the denial, but you may only get one chance to do so. An experienced attorney in your corner can make all the difference.
What is the basic appeal process?
ERISA requires a claimant to exhaust all administrative appeals before filing suit. Under ERISA-governed plans, when your claim is denied, you have 180 days from the date notified of the determination to submit an appeal. Once the appeal is submitted, the insurance company or plan administrator has 45 days to decide the appeal. Additionally, the insurance company is permitted to request an extension of 45 days for a total of 90 days. If your appeal is denied, you may file suit in federal court.
Long Term Disability Claim and Appeal Process ->
Do I need an attorney to file for LTD benefits?
That is the most common question facing an individual filing a claim for long-term disability insurance benefits. The short answer is that we don't always know. Depending on your disabling condition, the quality of your medical records, the support of your doctors, and the disability insurer itself, you may not need an attorney at the initial claim stage. You should however, consult a long-term disability attorney as soon as you become disabled. If your LTD claim is denied, you will want to hire a long-term disability attorney to prepare your appeal. An ineffective or untimely appeal can cost you an opportunity to pursue your claim in court. The good news is that you can contact Bemis, Roach & Reed and speak with one of our attorneys, even before you file. We will not be able to tell you whether your claim will be approved, but we can often give valuable advice on starting the claim process.
What does an LTD attorney do?
Most LTD group insurance is governed by ERISA which has very specific procedures and time deadlines to follow when filing a claim. Experienced long-term disability attorneys know the rules and procedures set out by ERISA.
An experienced LTD lawyer will:

Prepare a claim for filing.
Make sure a claim file contains all relevant medical evidence.
Work with medical providers to collect opinions to support your claim.
Know the questions to ask and how to gather all the information needed, instead of relying on forms provided by the insurance company.
Hire experts to testify regarding the requirements of your job and the overall labor market.
Acts as your representative, interacting with the LTD carrier or plan administrator.
Calendars deadlines and files claims and appeals in a timely manner.
Conducts settlement negotiations and files a lawsuit if necessary.
Why should I hire Lonnie Roach?
In order to defend your claim against an LTD insurance company, you need an attorney experienced in long-term disability claims, especially those subject to ERISA. Disability cases involve volumes of medical records and require a person with the skill to interpret that information. When cases proceed to trial, a claimant needs the skills of an appellate attorney. Lonnie Roach is all these and more. Mr. Roach is a Board Certified Personal Injury lawyer and recognized as an authority in ERISA cases. Admitted to the United States District Courts for the Northern District of Texas, the Southern District of Texas, the Eastern District of Texas, and the Western District of Texas, as well as the United States Court of appeals for the Fifth Circuit, Mr. Roach has successfully overturned denials of disability benefits at trial in U.S. District Court and at the United States Court of Appeals. His published opinions have helped shape the law for long-term disability claims and have earned him a place as one of the top attorneys in ERISA law in the state of Texas. Because of his vast experience and knowledge of ERISA claims, other law firms frequently refer their clients to Mr. Roach. He has represented hundreds of clients in ERISA long term disability cases at the administrative, trial, and appellate levels. Lonnie Roach will consult with you as soon as soon as you become disabled and help you avoid common mistakes.
What is special about Bemis, Roach & Reed?
Bemis, Roach & Reed is a law firm that focuses strictly on representing clients in disability benefits claims, including long-term disability insurance and Social Security Disability Income. While some other firms who specialize in another area of law may represent clients in disability claims as a "sideline," Bemis, Roach & Reed handles only disability benefits cases. Our friendly and professional staff will treat you with respect and sensitivity and ensure your best chance for winning your claim.
What does an LTD lawyer cost?
Our long-term disability attorneys work on a contingency fee basis, charging a percentage of your past-due benefits. Bemis, Roach & Reed will pay the costs of litigation up front and you do not pay anything if you do not win your case. Additionally, your initial consultation is free.
Don't Forget Life Insurance Premium Waivers
Most people who rely on Long Term Disability insurance to pay the bills are understandably concerned when their LTD claim is denied. If your coverage is employer-provided, then it is likely governed by The Employee Retirement Income Security Act of 1974, better known as ERISA. If you have employer-provided LTD coverage, then it's likely that you have an ERISA-governed life insurance policy as well. Typically, your life insurance will continue with premiums waived while you are considered disabled. The denial of LTD benefits, however, will often trigger a denial of the premium waiver for the life insurance policy as well.
Some people don't worry about the premium waiver because they're focused on the LTD claim. This is a mistake. If your disability is due to a chronic medical condition, as so many are, then you may find it difficult to find replacement life insurance when you lose your employer-provided coverage. Worse yet, if your chronic condition results in your death, then your loved ones may find themselves with no benefits just when they need them most.
If your premium waiver claim is denied, you must appeal it within 180 days, just like you do your LTD claim. When I submit an LTD appeal for my client, I typically submit an appeal of the denial of a premium waiver claim at the same time. If the LTD appeal is denied and we have to file a lawsuit, we include the premium waiver in the lawsuit filing. Typically, when the LTD appeals are successful, the premium waiver appeal is granted as well. If no premium waiver appeal was sent, however, then the life insurance coverage will likely end and can never be reinstated. Since this is the only life insurance many disabled people will qualify for, it is crucial that the coverage be protected by filing a timely appeal.
Disabling Diseases
Bemis, Roach & Reed has helped clients who are disabled from a wide variety of medical conditions. If you are unable to work due to any of the following conditions and have been denied disability benefits, contact us. We would like to help.
Author: Attorney Lonnie Roach has been practicing law for over 29 years. He is Superlawyers rated by Thomson Reuters and is Top AV Preeminent® and Client Champion rated by Martindale Hubbell. Through his extensive litigation Mr. Roach obtained board certifications from the Texas Board of Legal Specialization. Lonnie is admitted to practice in the United States District Court – all Texas Districts and the U.S. Court of Appeals, Fifth Circuit. Highly experienced in Long Term Disability denials and appeals governed by the "ERISA" Mr. Roach is a member of the Texas Trial Lawyers Association, Austin Bar Association, and is a past the director of the Capital Area Trial Lawyers Association (Director 1999-2005) Mr. Roach and all the members of Bemis, Roach & Reed have been active participants in the Travis County Lawyer referral service.
Your Free Initial Consultation
At Bemis, Roach and Reed, if we can't help you, we will try to find the right attorneys for you.
We offer each of our prospective clients a free no obligation one hour phone or office consultation to see if we can help you and if you are comfortable with us. We know how difficult a time like this can be and how hard the decisions are. If we can be of assistance to you and help you find a solution to your issue we will even if that means referring you to another attorney.
Or simply call
512-454-4000
to schedule your
Free Consultation
If you could provide us with some basic information about your claim we will get right back with you with a free case evaluation and schedule your Free Consultation Today.