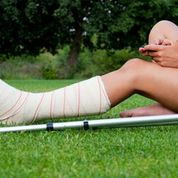 Huntington's Disease, formerly known as Huntington's chorea, is a progressive, degenerative neurological disease that can seriously impact your ability to work and function as you normally would. If you or a loved one has been recently diagnosed with Huntington's Disease, or if your symptoms have progressively been getting worse, contact the Law Office of Bemis, Roach & Reed today. You may be eligible to receive Social Security Disability (SSD) benefits. Our experienced Social Security Disability attorneys have been serving clients in the Austin area and throughout Texas for over 20 years. We understand the complicated laws surrounding SSD. We can put our experience to work for you, and help you apply for the benefits you need.
SSD and Huntington's Disease
Huntington's is usually detected later in life, typically between the ages of 35 and 44. However, Huntington's can develop at any stage in life, and has been documented among small children. The earlier this disease develops, the quicker the negative progression gets. As a progressive neurological disease, Huntington's can affect almost any function of the body and brain. Common symptoms include:
Loss of muscle control
Difficulty swallowing or speaking
Seizures
Memory loss
Rigidity or body twisting
Uncontrollable movement or jerkiness
Difficulty completing complex tasks
Dementia
Anxiety
Depression
Difficulty sleeping
Compulsive behavior
Change in personality and mood
Huntington's is a condition listed in the Social Security Administrations' blue book. This means that if your symptoms meet the criteria listed for Huntington's, you automatically qualify to receive SSD benefits. To meet these criteria, you must prove through medical evidence, such as medical records and doctor evaluations, that you suffer from at least one of the following:
Involuntary movements/lack of coordination causing persistent difficulties walking or using your extremities
Decrease of cognitive abilities causing difficulties performing daily tasks, concentrating, or functioning socially
A mental disorder that has limited your ability to work for at least two years
If your Huntington's has not progressed to the point where you meet these criteria, you may still be eligible to receive SSD benefits. Again, you must prove through medical evidence exactly how your condition is affecting your ability to work and function. Your doctor can complete a particular evaluation that will show you are unable to work and function as you once did because of your condition.
It can be exhausting and sometimes impossible to cope with a disabling medical condition while applying for SSD benefits. Often, individuals will try to apply for benefits, but are denied even when they have been diagnosed with a disabling condition. This is why it is important to hire an experienced SSD lawyer who understands how the system works.
The lawyers at Bemis, Roach & Reed have over two decades of experience representing Texans with Huntington's Disease and other disabling medical and mental conditions. Our attorneys are dedicated to ensuring that you receive the benefits you are entitled to. If you want to apply for SSD benefits, call us today. If you have previously applied for benefits but were denied, we can help you appeal that decision. Contact us today for a free initial consultation.
Your Free Initial Consultation
At Bemis, Roach and Reed, if we can't help you, we will try to find the right attorneys for you.
We offer each of our prospective clients a free no obligation one hour phone or office consultation to see if we can help you and if you are comfortable with us. We know how difficult a time like this can be and how hard the decisions are. If we can be of assistance to you and help you find a solution to your issue we will even if that means referring you to another attorney.
Or simply call 512-454-4000
to schedule your
Free Consultation
If you could provide us with some basic information about your claim we will get right back with you with a free case evaluation and schedule your Free Consultation Today.