If you have had your Social Security disability claim denied you should consider filing an appeal.
Author: Attorney Lloyd Bemis
Most applications are denied initially but that doesn't mean you cannot get disability benefits.
Don't give up.

The appeal process may be confusing but with help can be navigated successfully.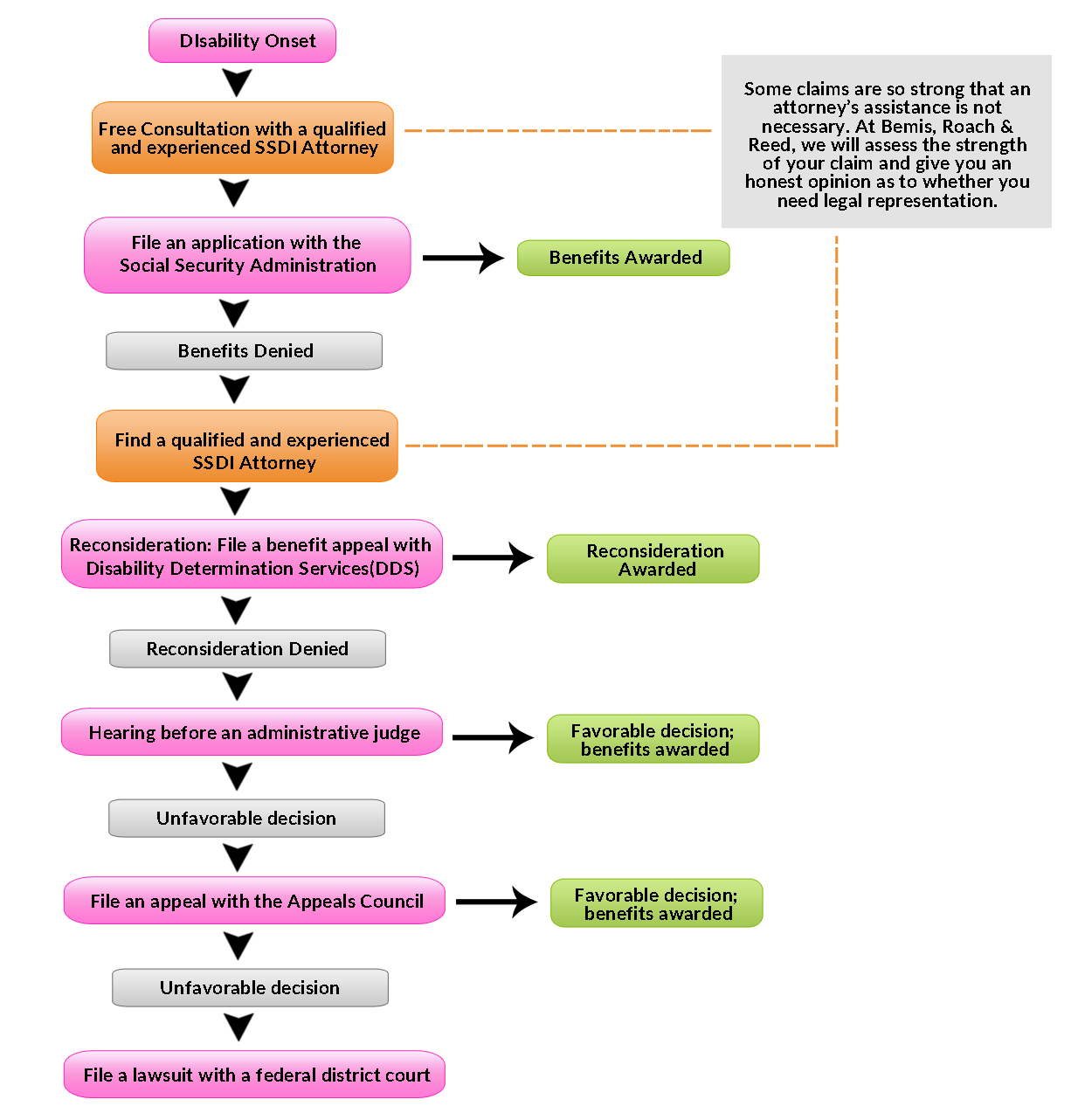 If you wish to appeal a Social Security disability denial,
you must make your request in writing within 60 days from the date you receive the denial letter from the Social Security Administration.

They assume you receive the letter five days after the date on the letter, unless you can show otherwise.
---
There are four levels of appeal:
Reconsideration

A reconsideration is a complete review of your claim by someone who did not take part in the first decision.

The SSA will look at all the evidence submitted when the original decision was made, plus any new evidence.

---

Most reconsiderations involve a review of your files without the need for you to be present.

But when you appeal a decision that concludes you are no longer eligible for disability benefits because your medical condition has improved or is not disabling, you can meet with a Social Security representative and explain why you believe SSA got it wrong.

---

Hearing

The hearing will be conducted by an administrative law judge who had no part in the original decision or the reconsideration of your case.

The hearing is usually held within 75 miles of your home. The administrative law judge will notify you of the time and place of the hearing.

---

Before the hearing, the Social Security Administration may ask you to provide more evidence and to clarify information about your claim.

You may look at the information in your file and give new information. At the hearing, the administrative law judge will question you and any witnesses you bring. Other witnesses, such as medical or vocational experts, also may give information at the hearing. You or your representative may question the witnesses.

---

This is your best chance to win the case.

It is the first time that a decision maker gets to meet you and talk with you about your medical condition. If you have not hired someone to represent you by this point in the process, you should seriously consider doing so now. The hearing is a formal legal proceeding. Witnesses are under oath. They are questioned and cross examined. Testimony is recorded. Few clients have the knowledge and experience to fully prepare.

---

Appeals Council

The Appeals Council looks at all requests for review, but it may deny a request if it believes the hearing decision was correct.

If the Appeals Council decides to review your case, it will either decide your case itself or return it to an administrative law judge for further review.

---

Federal Court
If you disagree with the Appeals Council's decision or if the Appeals Council decides not to review your case, you may file a lawsuit in a federal district court.
The letter you receive from the SSA about the Appeals Council's action also will tell you how to ask a court to look at your case.
---
In some cases, you may ask the SSA to continue paying your benefits while it makes a decision on your appeal.
You can ask for your benefits to continue when:
You are appealing the SSA's decision that you can no longer get Social Security disability benefits because your medical condition is not disabling; or
You are appealing the SSA's decision that you are no longer eligible for SSI payments or that your SSI payment should be reduced or suspended.

If you want your benefits to continue, you must tell the SSA within 10 days of the date you receive the denial letter.

If your appeal is turned down, you may have to pay back any money you were not eligible to receive.
---
---
The SSA monitors SSDI recipients and conducts periodic reviews of eligibility in almost all cases.
Your likelihood of medical improvement is determined by SSA during your initial application for disability benefits.
---
There are three general determinations under which your case will fall that determine your review schedule.
If you are likely to experience improvement, a review before within six to 18 months is likely.

If SSA determines that your condition has the possibility of improving, your case will be reviewed about every three years.
If your disability is severe enough that no improvement is expected, your reviews will be conducted about every seven years.
---
When the SSA begins a review of your case, called a
Continuing Disability Review

, you will receive a letter indicating this activity

You will be requested to come to your local Social Security office, complete forms and provide other medical and work information to allow the SSA to conduct a 12-month review of your recent medical history. This review will determine if, under the SSA's standards, you are showing enough medical improvement to allow you to return to the workforce at a level which no longer qualifies you for SSDI.
---
A review can also be initiated "out of cycle" by medical improvement or work activity.
The SSA allows SSDI benefit recipients to work, but the work activity must be below a level considered to be "substantial gainful activity." If tax returns and other records indicate a level of work activity high enough to be substantially gainful, a review will likely be initiated. The SSA will conduct a review to determine if your condition has improved, and whether that improvement should result in a termination of benefits.
---
Summarized from the Social Security Administration's site (publications 10041 and 10068) and the Social Security and Disability Resource Center.
---

Unfortunately, about a quarter of people will become disabled during their working years. If an injury or illness is preventing you from working, you may be eligible to collect disability benefits. If you are thinking of filing for social security disability or long term disability we can help. If you have filed for benefits and been denied disability we can assist in your appeal. Don't give up. Contact the experienced long term disability attorneys at Bemis, Roach and Reed today for a free consultation. Call 512-454-4000 and get help NOW.
---
Author: Attorney Lloyd Bemis has been practicing law for over 35 years. He is Superlawyers rated by Thomson Reuters and is Top AV Preeminent® and Client Champion Gold rated by Martindale Hubbell. Through his extensive litigation Mr. Bemis obtained dual board certifications from the Texas Board of Legal Specialization. Lloyd is admitted to practice in the United States District Court – all Texas Districts and has argued before the U.S. Court of Appeals, Fifth Circuit. Mr. Bemis is a member of the Travis County Bar Association. He has been active in the American Association for Justice and is a past Director of the Capital Area Trial Lawyers Association. Mr. Bemis and all the members of Bemis, Roach & Reed have been active participants in the Travis County Lawyer referral service.
Your Free Initial Consultation
At Bemis, Roach and Reed, if we can't help you, we will try to find the right attorneys for you.
We offer each of our prospective clients a free no obligation one hour phone or office consultation to see if we can help you and if you are comfortable with us. We know how difficult a time like this can be and how hard the decisions are. If we can be of assistance to you and help you find a solution to your issue we will even if that means referring you to another attorney.
Or simply call 512-454-4000
to schedule your
Free Consultation
If you could provide us with some basic information about your claim we will get right back with you with a free case evaluation and schedule your Free Consultation Today.