If you have been forced to stop working due to a disabling disease, you should investigate whether or not you qualify for Social Security Disability Insurance or SSDI.
---
For purposes of Social Security Disability benefits, a permanent disability is caused by either disease or injury and makes you unable to work.
The Social Security Administration has a strict definition of permanent disability, and it only pays benefits to people who cannot work because they have a medical condition that is expected to last at least one year or result in death. Whether or not you are disabled is determined not only by your inability to perform your most recent job, but must also not be able to work at any job considering your age, education level, and experience. Even if your education and work experience would cause you to be hired by a company, does not mean that you are able to perform the job. If you cannot perform at a job primarily because of your injury or disease, you are considered disabled. If your disability lasts, or is expected to last, at least one year, you are considered permanently disabled.
---
The purpose of Social Security Disability benefits is to provide you financial assistance due to your permanent disability.
You can use your benefits to pay for doctor bills, surgery or other medical treatment, and various living expenses. Disability payments help a lot of people, but they are difficult to acquire. The application process is challenging, and appealing a denial of your claim is harder still. You do not have to work through this system by yourself. If you are permanently disabled, it is very important that you do not wait to apply for Social Security Disability benefits. Waiting can delay much needed benefits and make the entire process more difficult.
Contact Experienced Austin Disability Lawyers Today
---
If you have a disabling disease and need to apply for Social Security Disability benefits, contact our experienced disability benefit lawyers today to determine if you qualify for disability benefits.
We are based in Austin, and serve clients throughout Texas. We offer free initial consultations. With your needs and goals in mind, we will work with you during the entire application process. If your application has already been denied, we will help you appeal that decision. Do not take the chance that your application will be denied by applying by yourself. Let our experienced Social Security Disability benefits lawyers help you today.
---
---
Bemis, Roach & Reed has helped clients who are disabled from a wide variety of medical conditions. If you are unable to work due to any of the following conditions and have been denied disability benefits, contact us. We would like to help.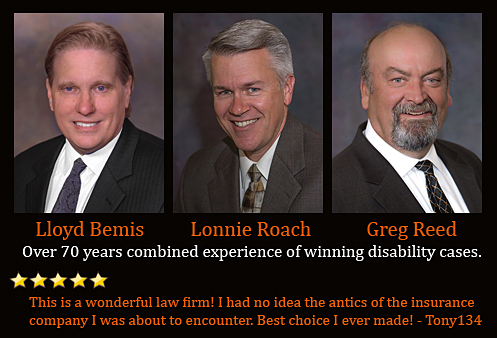 Your Free Initial Consultation
At Bemis, Roach and Reed, if we can't help you, we will try to find the right attorneys for you.
We offer each of our prospective clients a free no obligation one hour phone or office consultation to see if we can help you and if you are comfortable with us. We know how difficult a time like this can be and how hard the decisions are. If we can be of assistance to you and help you find a solution to your issue we will even if that means referring you to another attorney.
Or simply call 512-454-4000
to schedule your
Free Consultation
If you could provide us with some basic information about your claim we will get right back with you with a free case evaluation and schedule your Free Consultation Today.