Lonnie Roach, attorney at Austin firm Bemis, Roach & Reed, assists many Texas residents with their long term disability (LTD) appeals. His clients suffer from many types of conditions and injuries, including various back injuries.
One client, from Wichita Falls, Texas, stopped working due to a degenerative spinal condition and filed for short term disability through AT&T, which was both her employer and her LTD insurance provider. She was under the medical care of a board certified neurologist and remained on short term disability until those benefits expired. At that time, her claim was transitioned to long term disability under AT&T's Disability Income Plan. Her doctor determined she was totally disabled, both from her own occupation at the phone company, as well as any occupation within the open labor market in which she resided. Her employer was acquired by another which reviewed and denied her claim. She hired us, and we were able to settle her claim.
One Bastrop client, who worked for Albertson's, had an inoperable, severely herniated disc in his lumbar spine, which caused both spinal stenosis and severe intractable back pain. His disability Plan Administrator claimed that he was capable of performing sedentary work, so his claim was denied. It was determined that, in an eight-hour work day, the client could only stand, sit, or drive in 30-minute increments. He required and took on a daily basis Methadone, Percocet, Neurantin, Paxil, and Klonopin. These medications prevented him from obtaining any gainful employment. Two of his treating physicians wrote that his condition was so severe that they did not even recommend performing a functional capacity evaluation on him, because it would violate his lifting restrictions and could do further damage to his severe back problem. Bemis, Roach & Reed took his case to trial and won, with a benefit reinstatement award.

An Austin client suffered from severe back pain resulting from L4-5 disc disease, as well as bilateral facet/SI joint pain. His medications included Celebrex, Sanaflex, Norco and others. He is permanently disabled and will never be able to return to work. Indeed, that is what each of his physicians had stated and this was the finding reached by the Social Security Administration. In its denial letters and the appeal denial letters, Reliance Standard showed a lack of deference to the findings of our client's doctors and surgeons and, in fact, a total reliance on its internal claims review personnel to support its denial. He was unable to sit or stand for more than 30 minutes at a time and spent most of his days in bed due to pain. He was unable to drive due to pain and medication. We won after taking his case to trial, with benefits reinstated.
Physicians had previously certified that our client from Streetman, Texas had a class 5 physical impairment and was totally disabled. Aetna's own file reviewer indicated that the client was unable to be employed as a Registered Nurse. The denial letter suggested that she could engage in other types of nursing. This analysis did not, however, take into account her current restrictions and limitations. She had a history of a lumbar fusion surgery as well as chronic and persistent lumbar radiculopathy with chronic pain syndrome. This resulted in a very poor sitting tolerance of approximately ten minutes. She was also noted to have a short walking tolerance and was unable to lift more than five or ten pounds. For these reasons, our client was incapable of working full time. She was awarded disability benefits from the Social Security Administration. Though Aetna denied her claim, we were able to get her benefits reinstated.
A client in San Angelo suffered from chronic pain resulting from failed surgical spine syndrome with arachnoiditis entrapping nerve roots and retrolisthesis, which caused significant spinal stenosis. He experienced significant radicular pain with lifting, carrying, and prolonged walking and standing. Two physicians and the SSA certified him to be totally and permanently disabled from any occupation. Johnson & Johnson, however, contended that, though he could no longer perform his previous job, he was not disabled from any profession and could work a full-time, sedentary job. We appealed his denial and got his benefits reinstated.
If you have suffered a disabling back injury but have had your long term disability claim denied, contact Lonnie Roach. Bemis, Roach & Reed wants to make sure you receive the benefits you deserve. Call 512-454-4000 for a free consultation.
---

Austin Texas Disability law firm Bemis, Roach & Reed provides legal services to disabled individuals throughout the State of Texas. If you or someone you know is in need of a successful
Long Term disability lawyer or Social Security disability lawyer

, call us at (512) 454-4000 or contact us to schedule a free consultation.
---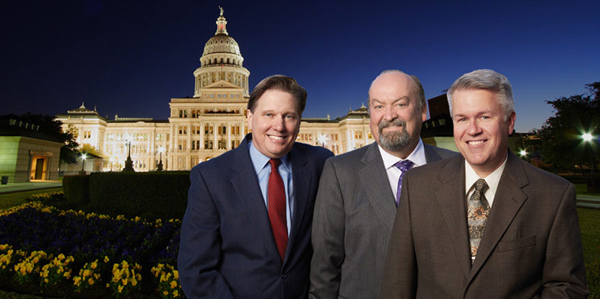 The Texas Disability Lawyers of Bemis, Roach & Reed
can help prepare you for your Social Security Disability hearing.
---
Your Free Initial Consultation
At Bemis, Roach and Reed, if we can't help you, we will try to find the right attorneys for you.
We offer each of our prospective clients a free no obligation one hour phone or office consultation to see if we can help you and if you are comfortable with us. We know how difficult a time like this can be and how hard the decisions are. If we can be of assistance to you and help you find a solution to your issue we will even if that means referring you to another attorney.
Or simply call 512-454-4000
to schedule your
Free Consultation
If you could provide us with some basic information about your claim we will get right back with you with a free case evaluation and schedule your Free Consultation Today.