How COBRA, SSDI and Medicare work together.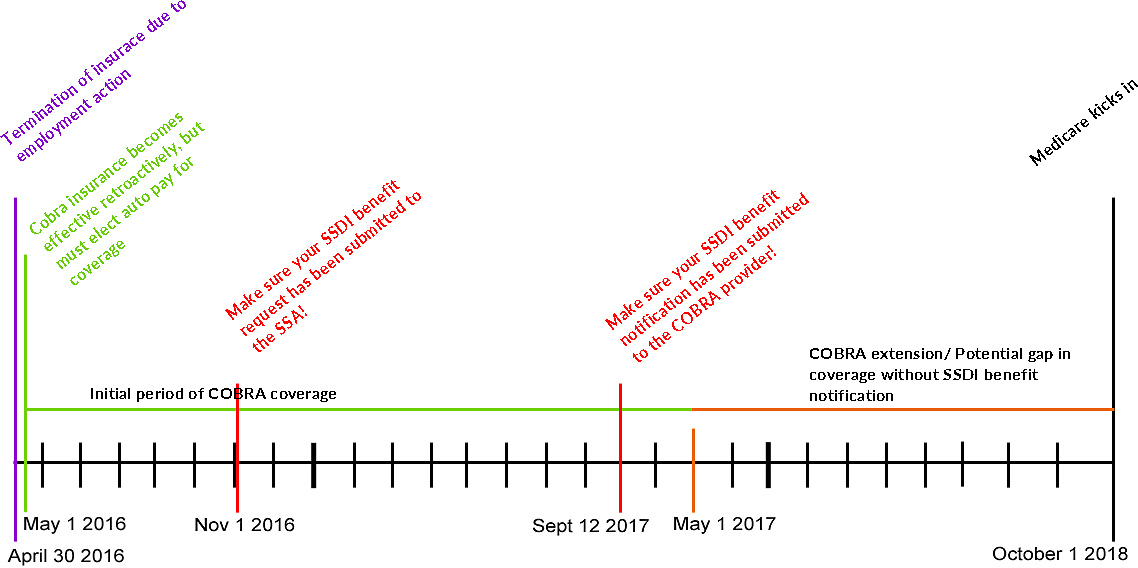 ---
This is an ideal representation of the time-table of how COBRA, SSDI and Medicare should work together.
Eligibility could shift based upon delays in award of SSDI, retroactive SSDI benefits, etc. You become qualified for Medicare 24 months after your SSDI benefits begin, including retroactive pay. You are ineligible for SSDI for the first 5 months of your disability, but don't wait to begin the application process! The sooner you begin, the better your chance of avoiding a coverage gap.
---
An SSDI benefit request takes 300 days, on average, to process. COBRA providers must receive notification of SSDI award within 60 days of your receipt of notification, and before the initial 18-month COBRA coverage period expires.
Don't wait until it's too late and you're caught in a coverage gap!
---
Unfortunately, about a quarter of people will become disabled during their working years. If an injury or illness is preventing you from working, you may be eligible to collect disability benefits. If you are thinking of filing for social security or long term disability we can help. If you have filed for benefits and been denied disability we can assist in your appeal. Don't give up. Contact the experienced long term disability attorneys at Bemis, Roach and Reed today for a free consultation. Call 512-454-4000 and get help NOW.
---
---
Bemis, Roach & Reed has helped clients who are disabled from a wide variety of medical conditions. If you are unable to work due to any of the following conditions and have been denied disability benefits, contact us. We would like to help.
Your Free Initial Consultation
At Bemis, Roach and Reed, if we can't help you, we will try to find the right attorneys for you.
We offer each of our prospective clients a free no obligation one hour phone or office consultation to see if we can help you and if you are comfortable with us. We know how difficult a time like this can be and how hard the decisions are. If we can be of assistance to you and help you find a solution to your issue we will even if that means referring you to another attorney.
Or simply call 512-454-4000
to schedule your
Free Consultation
If you could provide us with some basic information about your claim we will get right back with you with a free case evaluation and schedule your Free Consultation Today.