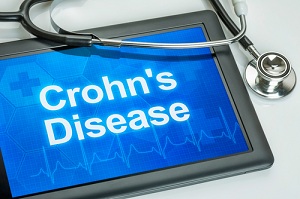 Not all diseases or disabilities qualify for Social Security Disability payments, and not all patients with a qualifying disease will be able to receive benefits. The Social Security Administration (SSA) determines whether or not you qualify based on the severity and longevity of the condition. Digestive system disorders are a category considered for Social Security Disability payments by the SSA. According to the federal Social Security Administration, digestive system disorders that qualify for disability benefits include (but are not limited to):
Inflammatory bowel disease;
Short bowel syndrome;
Malnutrition;
Gastrointestinal hemorrhage; and
Liver dysfunction.
Crohn's disease falls under the inflammatory bowel disease. The SSA notes that the condition is rarely curable and "recurrence may be a lifelong problem, even after surgical resection." Unlike other inflammatory bowel diseases, such as ulcerative colitis (which can be cured by a colectomy), if you are diagnosed with Crohn's Disease you may qualify for disability payments for life.
According to Healthline, common symptoms of Crohn's disease—which make it impossible to carry on with life as normal—include persistent diarrhea, weight loss, loss of appetite, bloody stool, and vomiting. Though the disease is suspected to be hereditary, allergies, stress, a bad diet, and a compromised immune system, "are often contributing factors to the condition," reports Healthline.com.
Crohn's disease is estimated to affect approximately 500,000 people in North America, according to a report from Princeton University. Most people are diagnosed when they are teenagers or in their twenties or in their fifties to seventies, "although the disease can occur at any age."
If you have been diagnosed with Crohn's disease in Texas and are interested in knowing your options for disability benefits, the most important step is to seek legal counsel. Contact the law offices of Bemis, Roach & Reed for a free initial consultation today.
Your Free Initial Consultation
At Bemis, Roach and Reed, if we can't help you, we will try to find the right attorneys for you.
We offer each of our prospective clients a free no obligation one hour phone or office consultation to see if we can help you and if you are comfortable with us. We know how difficult a time like this can be and how hard the decisions are. If we can be of assistance to you and help you find a solution to your issue we will even if that means referring you to another attorney.
Or simply call 512-454-4000
to schedule your
Free Consultation
If you could provide us with some basic information about your claim we will get right back with you with a free case evaluation and schedule your Free Consultation Today.