How ERISA Protects Long-Term Disability Insurers
The Employee Retirement Income Security Act of 1974 (ERISA) is the law that governs most private Long-Term Disability Insurers. It is important to understand the political and cultural climate surrounding the history of the law in order to understand how it is being contorted today.
---
ERISA was originally enacted to regulate pensions. When the Indiana-based auto manufacturer Studebaker shut down their main plant in 1963, they could not afford to pay their employee pensions.
Around the same time, George Barasch, leader of the Allied Trades Council and Teamsters Local 815 labor unions, was accused of misusing $4 million in union funds. While he was ultimately found not guilty, the allegations were enough to bring the issue of pension reform into the public eye. In 1972, NBC released a critically acclaimed documentary displaying the struggles of individuals who depended on their pensions but didn't get what they were promised.
---
In 1974, President Gerald Ford signed ERISA into law on Labor Day to symbolize "a brighter future for almost all the men and women of our labor force."
President Ford cited the massive growth of pension plans and stated they are often underfunded and unfair to workers. The law was intended to regulate the plans for the benefit of the workers. It would apply not only to pensions, however, but to employer-provided benefits as well. If a worker received a benefit from work, that benefit was likely regulated by ERISA.
---
If you have been denied long term disability you may still qualify for benefits. Contact a Texas long term disability lawyer with extensive ERISA experience at 512-454-4000
---
Unfortunately, when it comes to Long-Term Disability Insurance, ERISA often works for the benefit of the insurer rather than the worker.
Traditionally, disputes between individuals and insurance companies were resolved in State court, often by jury trials. ERISA cases, however, are under the jurisdiction of federal courts. They are tried before federal judges and claimants are not entitled to a trial by jury.
---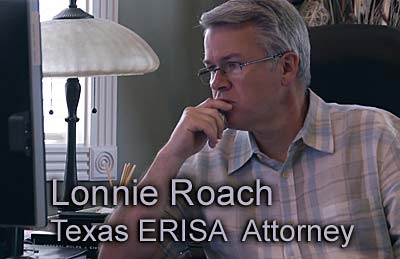 Additionally, ERISA cases are typically decided under a modified form of Trust law—not contract law as with a typical insurance dispute.
This places an ERISA-governed insurance company in the role of a trustee, and they are given broad power to decide claims. This, not surprisingly, has led to many abuses because, unlike a typical trustee, an ERISA fiduciary often operates under a conflict of interest. If the insurance company decides to pay the claim, it must do so out of its own pocket.
---
This inherent conflict of interest that exists in most ERISA-governed insurance claims, the lack of a right to trial by jury, and the limitation on damages imposed by ERISA combine to make ERISA cases among the most difficult for claimants to prosecute.
---

If you have a dispute with a Long Term Disability Insurance provider, you already know how difficult they can be to deal with. The laws surrounding these plans are different.
If you want to win against an insurance provider, you will want to have an attorney who understands those laws on your side.

Because the law is so specialized, there are few attorneys in Texas who handle this sort of case. The attorneys at Bemis, Roach and Reed have a proven track record of success in handling ERISA claims. Contact us today for a free consultation. Call 512-454-4000 and get help NOW.
---
Your Free Initial Consultation
At Bemis, Roach and Reed, if we can't help you, we will try to find the right attorneys for you.
We offer each of our prospective clients a free no obligation one hour phone or office consultation to see if we can help you and if you are comfortable with us. We know how difficult a time like this can be and how hard the decisions are. If we can be of assistance to you and help you find a solution to your issue we will even if that means referring you to another attorney.
Or simply call 512-454-4000
to schedule your
Free Consultation
If you could provide us with some basic information about your claim we will get right back with you with a free case evaluation and schedule your Free Consultation Today.