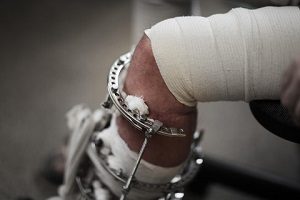 According to information provided by the Social Security Administration (SSA), statics show that a worker who is 20 years of age has a three in one chance of becoming disabled before reaching the age of full retirement.
The Social Security disability benefit program is a total disability program, in place for people who have a medical condition that leaves them 100 percent disabled. This disability must be one that will last for a minimum of one year. It does not provide for partial disabilities or short-term disabilities.
There are two earning tests the SSA uses in order to determine if someone is even eligible to apply for benefits. On is called a "recent work test" and is based on your age at the time you became disabled. The other test is referred to as a "duration of work" test and is based on how many months or years you have worked and under your Social Security number.
There are five criteria the SSA uses to determine whether or not a person is totally disabled and is entitled to receive benefits.
The first thing that is considered is whether or not you are currently working. If you are working and earn a certain average monthly income (the amount is changed yearly), the SSA does not consider you disabled. If you are not working, or are not earning the certain average monthly amount or less, SSA will then look at the medical condition you have to determine if you are eligible.
The next criteria is how severe your disability is and what limitations it puts on your life. Unless the disability or medical condition imposes severe restrictions on your daily activities, SSA will not consider granting benefits.
If the agency determines that your disability greatly interferes with your life, then the agency will determine if your medical condition falls under their "List of Impairments" which have already been determined by law as meeting the definition of totally disabled. If your condition is not on the list, then SSA compares the severity of your condition to ones that are on the impairment list.
The next step is determining whether or not your condition prohibits you from performing the work you did before you became disabled. If you are unable, a determination is made on whether or not there is any other kind of employment you would be able to perform. If SSA determines you can perform other work, they will not grand your disability benefit.
Applying and being awarded Social Security disability benefits is not an easy process. Applicants are often denied and are forced to go through the appeal process before they are finally awarded disability payments. If you are going to apply for benefits, or have already been turned down, contact a Texas Social Security disability attorney today.
Your Free Initial Consultation
At Bemis, Roach and Reed, if we can't help you, we will try to find the right attorneys for you.
We offer each of our prospective clients a free no obligation one hour phone or office consultation to see if we can help you and if you are comfortable with us. We know how difficult a time like this can be and how hard the decisions are. If we can be of assistance to you and help you find a solution to your issue we will even if that means referring you to another attorney.
Or simply call 512-454-4000
to schedule your
Free Consultation
If you could provide us with some basic information about your claim we will get right back with you with a free case evaluation and schedule your Free Consultation Today.