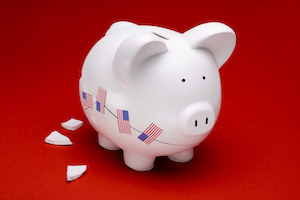 There are more Americans receiving Social Security Disability payments than ever before, and average monthly payments are at an all time high. According to The Wall Street Journal, "the number of Americans receiving benefits hit 10,939,936 in March 2013, and has hovered around that level for the past year." Monthly benefits vary by type of disability and age of the benefactor, of course, but the average monthly benefit is roughly $1,000. Budget analysts, according to The Wall Street Journal, have warned that the increased number of beneficiaries alongside the high average monthly payout will cause the program to run out of funding no later than the end of 2017.
Social Security Disability is one of the government's largest entitlement programs, according to The Wall Street Journal. The main increase in applications for benefits was during the economic downturn, and the number of applications has "eased considerably as the economy has slowly recovered." Yet 2010 saw twice as many applications as were received in 2000. The program is also wrought with fraud, as seen in the bombshell New York City Police Department case that wracked the entitlement program earlier this year, as reported by The Huffington Post.
If the Social Security Disability fund does in fact run out, according to CNN Money, "the revenues coming in would only be enough to cover about 80 percent of the payments due to the disabled and their families." Benefits would be cut for recipients, affecting nearly 11 million Americans who rely on these federal disability payments.
There are several proposed solutions for the issue, according to CNN Money: one of which is to "authorize increasing the share [of Social Security] going toward disability payments to 2.6 percent for two years." The other, more controversial approach would be to increase the burden paid by both employers and workers by 0.2 percent each. Another proposed solution would be to reign in the program, which many critics say awards undeserving patients.
If you or someone you know is considering applying for Social Security Disability in Texas, the most important step is to contact a Social Security attorney. Do not go through it alone. Contact the law offices of Bemis, Roach & Reed for a free initial consultation today.
Your Free Initial Consultation
At Bemis, Roach and Reed, if we can't help you, we will try to find the right attorneys for you.
We offer each of our prospective clients a free no obligation one hour phone or office consultation to see if we can help you and if you are comfortable with us. We know how difficult a time like this can be and how hard the decisions are. If we can be of assistance to you and help you find a solution to your issue we will even if that means referring you to another attorney.
Or simply call 512-454-4000
to schedule your
Free Consultation
If you could provide us with some basic information about your claim we will get right back with you with a free case evaluation and schedule your Free Consultation Today.