Caring Disability Lawyers in Texas helping those with HIV / AIDS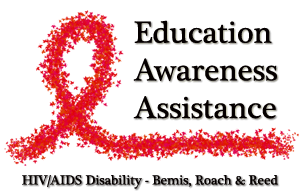 If you or someone you know has been diagnosed with HIV/AIDS, you may qualify to receive Social Security Disability (SSDI) benefits or Long Term Disability (LTD) benefits. SSDI benefits are granted to those who have disabling medical or mental conditions that prevent them from working. Long Term Disability benefits are provided by private insurers.
If you live in Texas and want to apply for SSDI or LTD benefits, contact us today. Our Texas disability lawyers understand the complexities of applying for both SSDI and LTD benefits. We have experience helping those with HIV/AIDS apply for disability benefits. We understand how important it is that you get the benefits you need and deserve. Call us toll free at (866) 433-4979 for a free consultation.
---
Applying for Disability with HIV/AIDS
HIV (Human Immunodeficiency Virus) and AIDS (Autoimmune Deficiency Syndrome) are autoimmune diseases that can cause system and organ failure if left untreated. HIV/AIDS are progressive diseases that can worsen over time. Often, these conditions lead to an increase in infections and viruses and may cause other disabling medical or mental conditions such as cancer or chronic, viral infections. In order to qualify for SSDI benefits due to HIV or AIDS, you must show through medical records that you were properly diagnosed by a medical professional and that you suffer from at least one of these complications:
Certain skin or mucus membrane conditions
Bacterial, viral, or fungal infections
Cancer
Protozoan or helminthic infection
HIV wasting syndrome
Chronic fungus or skin lesions
HIV encephalopathy
Chronic diarrhea
If you can show through medical records that you have suffered from any of the above complications and symptoms, then your HIV/AIDS will qualify as a disabling medical condition making you eligible to receive benefits. You may not have developed the above complications; however, you can still qualify for disability benefits if you can show that HIV/AIDS is preventing you from working like you did in the past. Long Term Disability providers will require proof of disease, but have varying criteria.
---
Call Experienced Texas Disability Lawyers for Help
Trying to apply for SSDI or LTD benefits by yourself can be frustrating, exhausting, and ultimately unsuccessful. You need skilled disability lawyers who understand the ins and outs of the application process. We work closely with every client, tailoring our legal help to your specific case.
If you want to apply for Social Security Disability or Long Term Disability benefits, but are not sure where to start just call us. Bemis, Roach and Reed also understands that due to your disability, you may be in a tough financial situation. This is why we never charge clients out of pocket and only take cases on a contingency fee basis. You will never be expected to pay for court costs out of pocket. Our fees will only come out of the back benefits compensation you receive. To determine if you are eligible to receive disability benefits, or if you have applied and been denied, call for your free initial consultation. If you are looking for experienced, Texas disability lawyers, contact us today.
---
Caring Disability Attorneys who can help those with HIV/Aids get the Benefits they need for a BETTER LIFE.
---
Bemis, Roach & Reed has helped clients who are disabled from a wide variety of medical conditions. If you are unable to work due to any of the following conditions and have been denied disability benefits, contact us. We would like to help.
Your Free Initial Consultation
At Bemis, Roach and Reed, if we can't help you, we will try to find the right attorneys for you.
We offer each of our prospective clients a free no obligation one hour phone or office consultation to see if we can help you and if you are comfortable with us. We know how difficult a time like this can be and how hard the decisions are. If we can be of assistance to you and help you find a solution to your issue we will even if that means referring you to another attorney.
Or simply call 512-454-4000
to schedule your
Free Consultation
If you could provide us with some basic information about your claim we will get right back with you with a free case evaluation and schedule your Free Consultation Today.