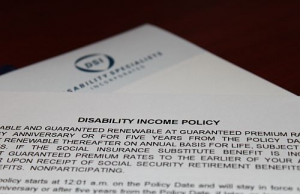 In December 2010, The Texas Department of Insurance issued an order banning the use of discretionary clauses in Long Term Disability insurance policies. This is an important protection for Texas consumers, as previously, insurance companies utilized these clauses to deny the payment of Long Term Disability benefits based on their own process of determination as to who was eligible to receive payments. That is no longer the case.
---
This quote from the beginning of the lengthy order neatly sums up what is at the heart of this measure:

"The new subchapter prohibiting the use of discretionary clauses in certain insurance policy forms and HMO evidence of coverage forms is necessary to protect insurance and HMO consumers from the possibility of incorrect and unfair coverage determinations by insurers and HMOs (carriers) without a subsequent opportunity for a full and independent review under a non-deferential standard. Discretionary clauses are contractual provisions that purport or act to reserve for carriers the discretion to interpret the terms of an insurance contract or HMO evidence of coverage and alter the judicial standard of review upon appeal."
---
You can download and review the entire
Texas Long Term Disability Discretionary Clause Order here
. Also, you may call Lonnie Roach, or fill out our inquiry form on the right
side of this page if you have been denied insurance benefits and have questions.
The knowledgeable attorneys at Bemis, Roach & Reed would be pleased to assist you.
Discretionary Clause Press Release
Texas Long Term Disability Discretionary Clause Order
---
---
Bemis, Roach & Reed has helped clients who are disabled from a wide variety of medical conditions. If you are unable to work due to any of the following conditions and have been denied disability benefits, contact us. We would like to help.
Your Free Initial Consultation
At Bemis, Roach and Reed, if we can't help you, we will try to find the right attorneys for you.
We offer each of our prospective clients a free no obligation one hour phone or office consultation to see if we can help you and if you are comfortable with us. We know how difficult a time like this can be and how hard the decisions are. If we can be of assistance to you and help you find a solution to your issue we will even if that means referring you to another attorney.
Or simply call 512-454-4000
to schedule your
Free Consultation
If you could provide us with some basic information about your claim we will get right back with you with a free case evaluation and schedule your Free Consultation Today.