Mental impairment can be extremely difficult to cope with, and those with Long Term Disability (LTD) insurance often experience a degree of relief when a policy provides coverage for impairment. But this relief unfortunately vanishes all too frequently. Most long term disability policies have benefit caps for mental illness or disorders, meaning that the insurance company will likely stop benefits after a specific amount of time if the disability can be contributed to mental illness.
However, LTD insurance companies often fail to acknowledge the difference between mental illness and organic brain injury or organic brain syndrome. This makes it very important to get a clear diagnosis and documentation of your condition. According to the National Institute of Health's MedlinePlus site, Organic brain syndrome (OBS) "is a general term used to describe decreased mental function due to a medical disease, other than a psychiatric illness" (emphasis added).
Some causes of OBS are:
breathing conditions such as low oxygen levels or high carbon dioxide levels;
cardiovascular disorders that lead to brain injury (stroke, heart infections);
degenerative disorders, including Alzheimer's disease, MS, and Parkinson's disease;
brain or blood infections (encephalitis and septicemia); and
brain injury caused by trauma, including concussion.
MedlinePlus lists agitation, confusion, severe short-term loss of brain function, and long-term loss of brain function as OBS symptoms. Because these symptoms overlap with those of certain mental illnesses, LTD insurance companies often jump on the chance to cut off a beneficiary based on mental illness caps.
One of our clients suffered traumatic brain injury in an oil rig explosion. He was granted benefits initially, but his LTD insurance company stopped payments after two years, suggesting his condition was due to mental illness. He appealed the decision, won, and received payment for 20 years, but the company changed hands. Sadly, the new provider again cancelled benefits, and even suggested that our client had been wrongly paid over the previous years. Based on extensive medical records proving traumatic brain injury, we were able to get him a settlement.
Clients suffering from MS, Parkinson's, and other causes of OBS have faced similar situations, but Bemis, Roach & Reed has fought for reinstatement of benefits. If you've been in an accident which resulted in brain injury and your LTD claim has been rejected, call us for a free consultation. We may be able to help.
---

Austin Texas Disability law firm Bemis, Roach & Reed provides legal services to disabled individuals throughout the State of Texas. If you or someone you know is in need of a successful
Long Term disability lawyer or Social Security disability lawyer

, call us at (512) 454-4000 or contact us to schedule a free consultation.
---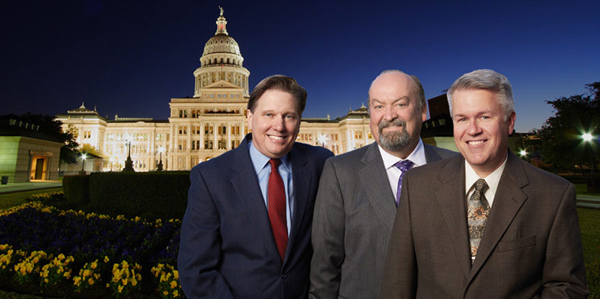 The Texas Disability Lawyers of Bemis, Roach & Reed
can help prepare you for your Social Security Disability hearing.
---
Your Free Initial Consultation
At Bemis, Roach and Reed, if we can't help you, we will try to find the right attorneys for you.
We offer each of our prospective clients a free no obligation one hour phone or office consultation to see if we can help you and if you are comfortable with us. We know how difficult a time like this can be and how hard the decisions are. If we can be of assistance to you and help you find a solution to your issue we will even if that means referring you to another attorney.
Or simply call 512-454-4000
to schedule your
Free Consultation
If you could provide us with some basic information about your claim we will get right back with you with a free case evaluation and schedule your Free Consultation Today.