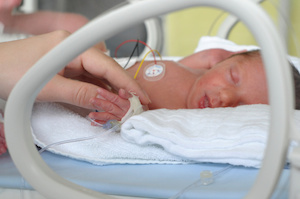 The nursery has been painted a cool ocean blue. The wardrobe is brimming with a rainbow array of newborn baby clothes. A comfortable rocking chair sits strategically in the corner. All awaiting the arrival of your newborn child. The last sonogram confirmed that you and your spouse will be welcoming a bouncing baby boy – but what the sonogram did not reveal is that your son is planning an early arrival.
According to Parents Magazine, the normal gestation period for pregnancy is 40 weeks but an infant arriving at 36 weeks or less is considered a premature birth. For those infants born 32 weeks or earlier, there is an increased risk for serious complications.
Luckily, amidst the chaos, you welcomed your son into the world. The primary concern is birth weight, he weighed in just shy of two pounds. With the miracles of modern medicine of today, his treatment plan and his stay in the Neonatal Unit have already been set into motion.
As new parents you are exhausted and anxious. Of course your primary concern lies with your son but you cannot help but to think about possible disability issues and the costs associated with a lengthy stay in the Neonatal Unit. Your spouse steps out to contact an experienced Social Security attorney while you drift off to sleep counting blue baby bunnies.
The dawn brings cautious but promising news. Your son is doing remarkably well, but will be staying in the hospital until a favorable weight is reached. After the doctor and his rounding entourage leave your spouse pulls up a chair to share what he has learned about Social Security Insurance (SSI) benefits offered by the Social Security Administration (SSA) with regard to premature infants.
SSI Eligibility
Adults over the age of 65 with an approved disability or blindness;
Children with an approved disability or blindness;
Premature newborns with a birth weight of two pounds,10 ounces or less.
Income Eligibility
All proof of income and resources are required for a full review by the SSA;
All household income must fall within specified SSA guidelines.
Required Documentation
Your child's birth certificate and social security card;
All medical records and treatment plan are required for a full review by the SSA.
Benefits for Your Child
Cash benefits may begin immediately following application;
Benefits may continue up to six months while the SSA reviews the case;
If your child is covered by health insurance, the SSA limits monthly payments of $30 during the duration of the baby's hospital stay;
If your child is approved for SSI after leaving the hospital a check will be issued each month until either his condition improves or he reaches the age of 18.
Amidst the activity that occurs anytime a family welcomes a child into the world, time is limited. You and your spouse decide to schedule an initial consultation with a SSA attorney experienced in both the SSI application process and possible appeal directives so you can devote your time to your precious new baby boy.
If you find yourself in a similar situation, the experienced team ofThe Law Offices of Bemis, Roach & Reed will guide you through the SSI application process. If warranted, we will also stand behind you through the appeal process. Our team of Board Certified attorneys have been assisting individuals and families throughout the State of Texas since 1993. Contact us toll free at 866-433-4979 to schedule your consultation today.
Your Free Initial Consultation
At Bemis, Roach and Reed, if we can't help you, we will try to find the right attorneys for you.
We offer each of our prospective clients a free no obligation one hour phone or office consultation to see if we can help you and if you are comfortable with us. We know how difficult a time like this can be and how hard the decisions are. If we can be of assistance to you and help you find a solution to your issue we will even if that means referring you to another attorney.
Or simply call 512-454-4000
to schedule your
Free Consultation
If you could provide us with some basic information about your claim we will get right back with you with a free case evaluation and schedule your Free Consultation Today.