Bemis, Roach & Reed no longer handles Personal Injury cases.
In an effort to provide better service to our clients,
we are focusing our practice primarily on

Social Security Disability and Long Term Disability claims.
We hope the following information is useful to you,
but if you need additional assistance please call us at
512-454-4000


and we will be happy to refer you to a reputable Personal Injury Attorney.
Thank you. – The Attorneys of Bemis, Roach & Reed

---

Greg Reed, an Austin Disability Lawyer, received judgement in non-subscriber case.
Final Judgment in Workers Compensation Non-Subscriber Case
Bemis, Roach & Reed obtained a final judgment in excess of $1,100,000.00 on behalf of an injured worker on November 22, 2010. The employee worked for a used car sales lot and was injured when a co-worker accidentally ran over him with one of the vehicles on the lot.
Our client sustained very serious injuries and was hospitalized for several weeks. In addition, he was out of work for nearly two years.
In Texas, employers are not required to subscribe to the Texas Workers Compensation System. Texas is the only state in the nation that allows employers to opt out. If your employer subscribes to the workers compensation system, there are only limited circumstances in which you are allowed to go outside the workers compensation system and make a claim directly against the employer. If, on the other hand, your employer is a non-subscriber, you have the right to bring a negligence claim against your employer.
The law in "non-subscriber" cases is very favorable to the injured worker. In order to avoid a liability finding, the employer would have to establish that they were 0% negligent or that the employee's own negligence was the sole proximate cause of the injury. As you can well imagine, that would be a rare event.
Negligence on the part of the employer can include failure to properly train employees, failure to provide proper equipment, and failure to provide sufficient manpower. Many other employer actions can constitute negligence, as well. If you were injured on the job as a result of a co-worker's negligence or as a result of the negligence of your employer and your employer does not have workers compensation insurance, contact Bemis, Roach & Reed for a free consultation.
---

Austin Texas Disability law firm Bemis, Roach & Reed provides legal services to disabled individuals throughout the State of Texas. If you or someone you know is in need of a successful
Long Term disability lawyer or Social Security disability lawyer

, call us at (512) 454-4000 or contact us to schedule a free consultation.
---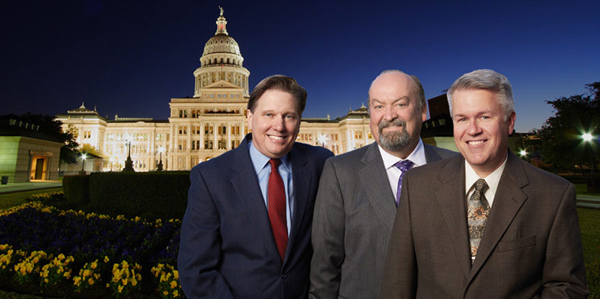 The Texas Disability Lawyers of Bemis, Roach & Reed
can help prepare you for your Social Security Disability hearing.
---
Your Free Initial Consultation
At Bemis, Roach and Reed, if we can't help you, we will try to find the right attorneys for you.
We offer each of our prospective clients a free no obligation one hour phone or office consultation to see if we can help you and if you are comfortable with us. We know how difficult a time like this can be and how hard the decisions are. If we can be of assistance to you and help you find a solution to your issue we will even if that means referring you to another attorney.
Or simply call 512-454-4000
to schedule your
Free Consultation
If you could provide us with some basic information about your claim we will get right back with you with a free case evaluation and schedule your Free Consultation Today.